Attualità | Rassegna
Per chi se li fosse persi
Lo tsunami in Indonesia, l'inchiesta shock sul passato di Donald Trump e la terza donna a vincere un Nobel per la fisica.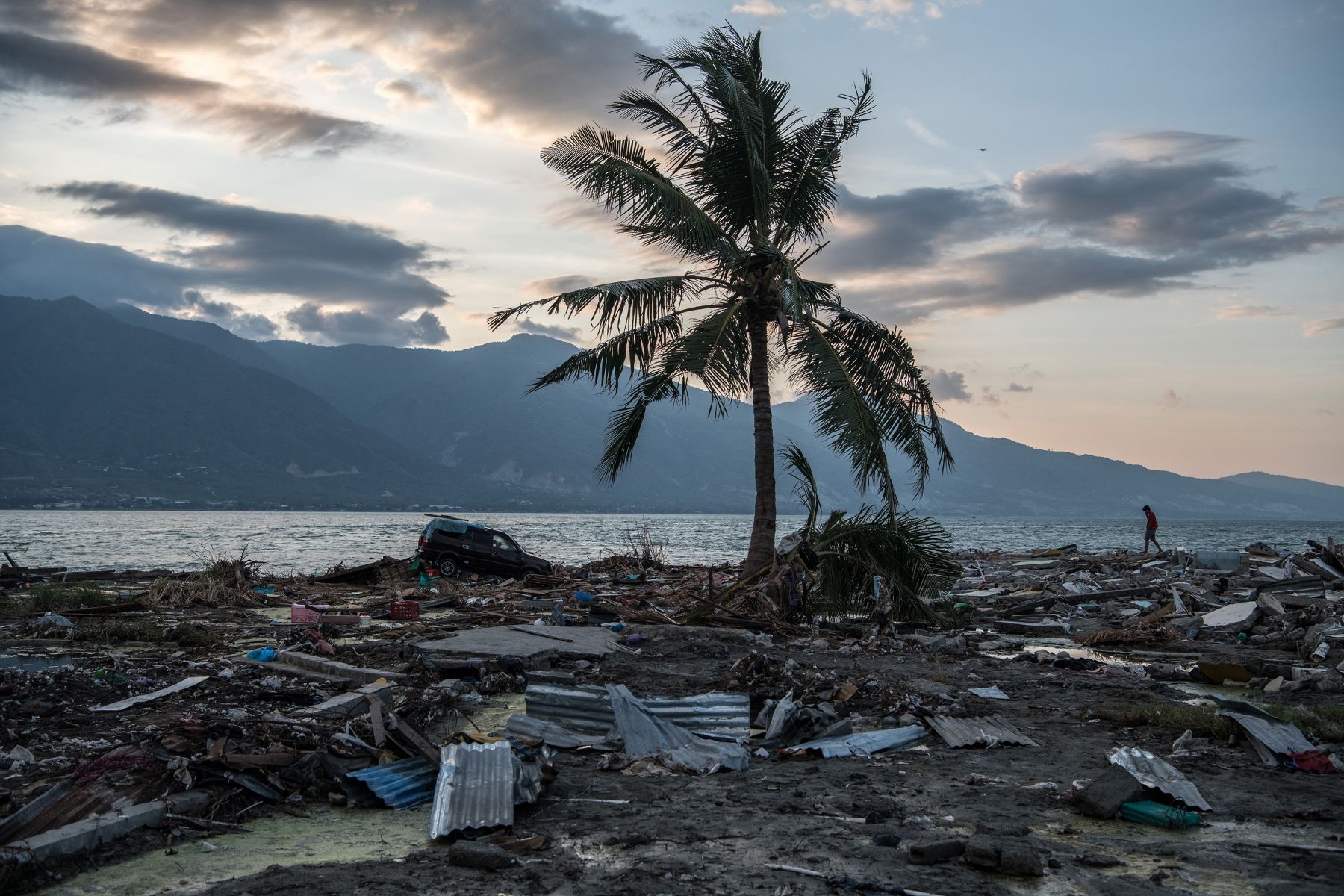 Il 28 settembre uno tsunami ha colpito l'isola di Sulawesi, a Palu, in Indonesia. Al momento, sono 14000 le vittime accertate e oltre 66 mila le abitazioni dannegiate. (Photo by Carl Court/Getty Images)
Venerdì 28 settembre, uno tsunami ha colpito l'isola indonesiana di Sulawesi. A oggi, le vittime sono 1400. Il loro numero sarebbe potuto essere più basso con un sistema di sicurezza migliore? Se lo chiede il New Yorker nel pezzo di apertura della nostra rassegna. Continuiamo con l'inchiesta shock del Nyt che spoglia il presidente Trump della maschera di self-made man, rivelando una fortuna ereditata grazie alle evasioni fiscali del padre. Dopo Trump, è il turno di un altro milardiario: Jeff Bezos, che ha alzato il salario minimo dei lavoratori Amazon. Dedichiamo poi spazio a personaggi meno controversi, come Donna Strickland, la terza donna della storia a vincere il Nobel per la fisica; Nicholas Cage, che pare essere adorato da registi e colleghi; e Christian Bale alias Dick Cheney nel trailer di Vice, scelto come video della settimana.
Attualità, politica, esteri
Why the Tsunami in Indonesia Struck Without Warning – The New Yorker
Sono 1400 le vittime dello tsunami che ha colpito l'isola di Sulawesi, e adesso ci si chiede se un sistema di sicurezza migliore avrebbe potuto salvarle.
Trump Engaged in Suspect Tax Schemes as He Reaped Riches From His Father – The New York Times
Un'inchiesta del Nyt ha svelato che Trump non è il self-made man che dice di essere. Ereditò dal padre 413 milioni di dollari, di cui 190 guadagnati evadendo il fisco.
Amazon is raising its minimum wage to $15 for US workers – Vox
I motivi che si celano dietro la scelta di Jeff Bezos di aumentare gli stipendi dei lavoratori Amazon a un minimo di 15 dollari l'ora.

Race is on to be EU's first ambassador to London – POLITICO
Chi sarà il primo ambasciatore dell'Ue in Gran Bretagna? Già, perché dopo Brexit l'Unione dovrà aprire un'ambasciata.
Media, giornali, tech
Middle East Edition of GQ Launches with Provocative Debut – Business of Fashion
Gq Middle-East ha fatto il suo esordio con un numero incentrato sui temi LGBT+.
'We Changed Culture': An Oral History of Vibe Magazine – Billboard
Su Billboard, la storia di Vibe Magazine, che questa settimana ha compiuto 25 anni.
Raised by YouTube – The Atlantic
L'Atlantic ha esploraro il mondo di Youtube Kids, molto più strano di quel che ci si aspetta.
SF-LOVERS: the Little-Known Story of the Internet's First Social Network – Slate Magazine
Slate racconta il primo social network della storia: si chiamava SF-LOVERS e lo inventarò un gruppo di appassionati di Star Trek.
Cultura
Opinion | Fake News Comes to Academia – WSJ
Cosa ci dice la provocazione di un gruppo di ricercatori che ha inventato assurdi paper accademici e se li è visti pubblicare da prestigiose riviste scientifiche.
Hunt on for lost masterpiece by one of greatest female artists – The Guardian
Tate sta cercando un dipinto della pittrice Angelica Kauffman che è stato visto per l'ultima volta nel 1941.
Tv, cinema, pop
'Banned in 46 countries' – is Faces of Death the most shocking film ever? – The Guardian
Faces of Death del '76 è il film più scioccante di sempre? Se lo chiede il Guardian incontrando il regista Conan LeCilaire.
Maniac's Sonoya Mizuno on the Inspiration Behind Her Glorious Wig – Vulture
Un'intervista a Sonoya Mizuno che racconta del suo ruolo nella serie Netflix Maniac.
We're Living in a Golden Age of Music Documentaries: Five Breakdowns – Rolling Stone
Viviamo nell'epoca d'oro dei documentari musicali e Rolling Stone ne ha elencati i più belli usciti quest'anno.
Is Nicolas Cage the most maverick actor since Marlon Brando? – The Guardian
Dicono che è l'ultimo attore-innovatore dopo Marlon Brando: breve elogio di Nicolas Cage, in vista dell'uscita di Mandy.
Moda, viaggi, cibo, stili di vita
For Sale: Haunted Shoes. Very Cursed. – Topic
Una bella lista con belle foto degli oggetti satanici e infestati che si trovano in vendita su eBay.
It's okay to Google your symptoms – The Outline
Un editoriale che sostiene l'utilità di cercare i propri sintomi su Google quando si sta male, al contrario di quel che si pensa.
The Century-Long Scientific Journey of the Affordable Grocery Store Orchid – Atlas Obscura
Da fiore esotico e costoso a fiore più comune e venduto: l'interessante storia delle orchidee ricostruita da Atlas Obscura.
Scienza
Introducing 'The Goblin': A new, distant dwarf planet bolsters eviden – Astronomy
C'è un'alta possibilità che ai confini del sistema solare ci sia un piccolo pianeta completamente ghiacciato e mai osservato (per quanto si sia sospettata nel tempo la sua esistenza).
One Wikipedia Page Is a Metaphor for the Nobel Prize's Record With Women – The Atlantic
Donna Strickland è la terza donna a vincere un Nobel per la fisica, eppure Wikipedia non la considerava abbastanza famosa per avere una pagina a lei dedicata.
Longform
He Won $19 Million in the Lottery—And Became a Bank Robber – The Daily Beast
Storia dell'uomo che vinse 19 milioni alla lotteria ma poi diventò un ladro di banche.
Il video della settimana
Christian Bale Is Totally Unrecognizable Playing Dick Cheney In 'Vice' Trailer – Digg
Un irriconoscibile Christian Bale veste i panni di Dick Cheney nel primo trailer di Vice.
Some contents or functionalities here are not available due to your cookie preferences!
This happens because the functionality/content marked as "Google Youtube" uses cookies that you choosed to keep disabled. In order to view this content or use this functionality, please enable cookies: click here to open your cookie preferences.
La gallery della settimana
Five photographers exploring how Brexit is changing Europe – Dazed
Cinque fotografi hanno provato a immortalare il modo in cui l'Europa è cambiata dopo Brexit.