Attualità | Rassegna
Per chi se li fosse persi
Soros persona dell'anno, le più grosse fake news sulla moda, un reportage da Rovaniemi, in Finlandia, il villaggio di Babbo Natale.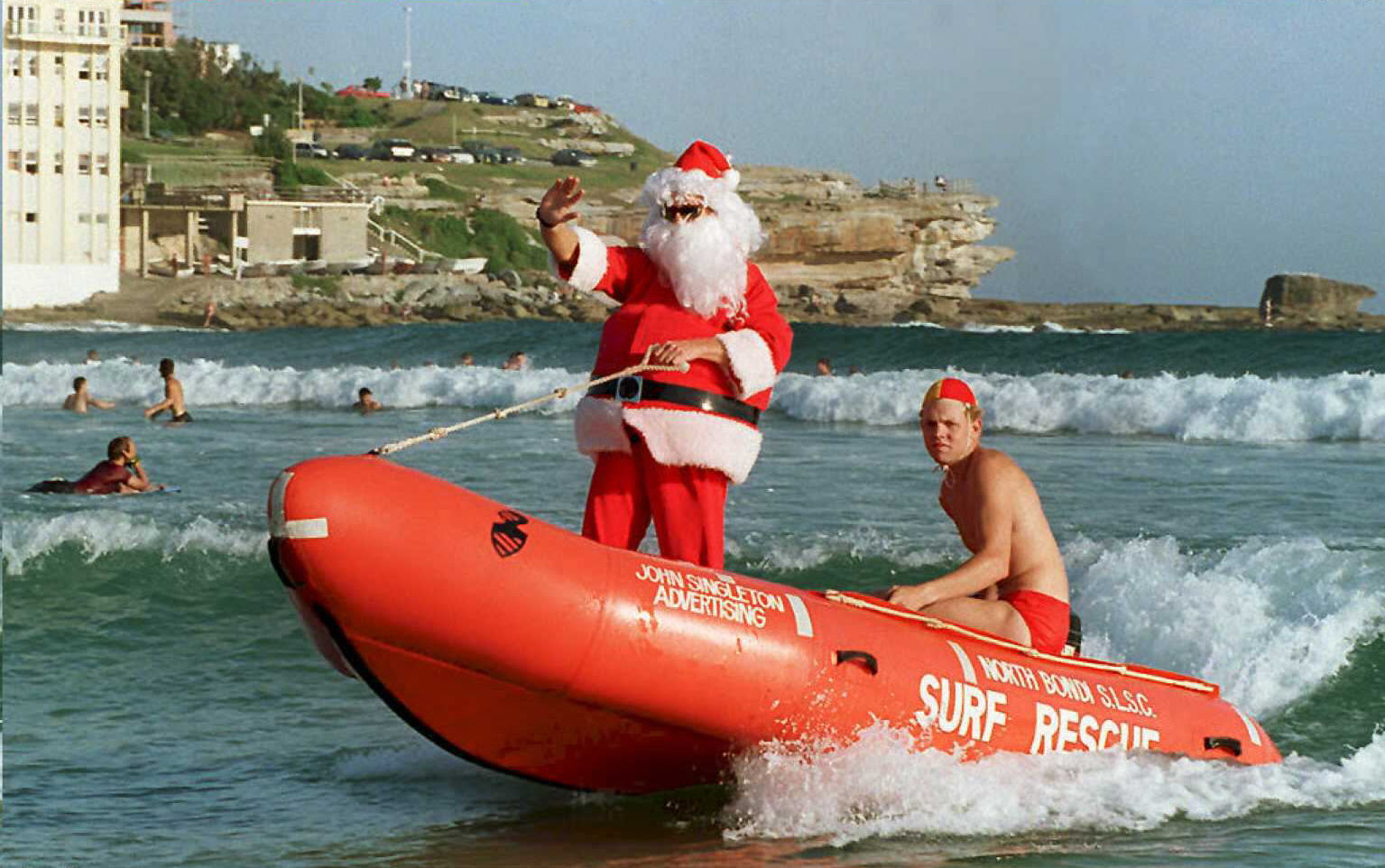 Babbo Natale arriva a bordo di un gommone da surf a Bondi Beach, Sydney il 22 dicembre 1994 (Torsten Blackwood/Afp/Getty Images)
L'ultima rassegna prima delle feste è anche l'ultima rassegna dell'anno. Insieme alla lista di Atlas Obscura di 13 tradizioni natalizie da tutto il mondo – un articolo interessante anche per i i più accaniti hater del Natale – trovate tante altre cose interessanti da leggere e guardare con calma durante le vacanze: l'analisi delle conseguenze della decisione di Trump di ritirare le truppe da Siria e Afghanistan, un video del critico d'arte Jerry Saltz che spiega la Guernica di Picasso ai passeggeri della metro di New York, le più grosse fake news sulla moda e un reportage da Rovaniemi, in Finlandia, la "sede" del villaggio di Babbo Natale. Buone feste a tutti, ci ritroviamo qui nel 2019.
Attualità, politica, esteri
America's Allies Fear That Traditional Ties No Longer Matter Under Trump – The New York Times
Gli alleati in Europa e in Asia hanno affermato che le dimissioni di Jim Mattis e i piani per ritirare le truppe dalla Siria e dall'Afghanistan sono momenti spartiacque nelle relazioni dell'America con il mondo.
National Action: The new parents and the neo-Nazi terror threat – Bbc
Daniel De Simone ricostruisce l'inquietante parabola del partito di ultradestra National Auction, tra propaganda online e spedizioni punitive.
FT Person of the Year: George Soros – Financial Times
Senza preoccuparsi troppo del parere dei complottisti di destra e di sinistra – si sa che Soros è il loro chiodo fisso – il Financial Times l'ha eletto persona dell'anno.
Media, giornali, tech
The 'Future Book' Is Here, but It's Not What We Expected – Wired
Il futuro del libro è qui, ma è molto diverso da come ce l'aspettavamo: secondo Craig Mod, lo stavamo cercando nel posto sbagliato.
The Biggest Fake News in Fashion – The New York Times
Tutte le fake news del mondo della moda, ovvero dell'approccio superficiale con cui molti media generalisti affrontano l'argomento.
Google's Earth: how the tech giant is helping the state spy on us – The Guardian
Un estratto del libro di Yasha Levine ricostruisce come, attraverso Google Earth, la multinazionale del web abbia aiutato Cia e National Security Agency a spiare milioni di utenti.
Cultura
"If I tell you I have to kill you with my laser vision" – Spike Art Magazine
In questa'intervista con Rita Vitorelli, Maurizio Cattelan parla della sua mostra a Shanghai, delle affinità con Marina Abramović e «di cosa significa essere dio».

Why we've always loved unicorns – Bbc
La Bbc approfondisce la lunga presenza degli unicorni nell'arte occidentale, dal Medioevo al film Blade Runner. 
Selfie-Reflection: Are Curators Just Preening Our Collective Inner Narcissus? – Elephant Magazine
Le superfici riflettenti di Koons, le stanze di Kusama, la mostra "Space Shifters": Elephant riflette su come l'arte "sfrutti" l'ossessione contemporanea per i selfie.
Tv, cinema, pop
Julian Casablancas on Escaping the Shadow of the Strokes – Wall Street Journal
Il leader della band che ha resuscitato la scena rock di New York parla con Neil Shah di un successo maturato lentamente e di cosa significa cambiare direzione.
The 20 best K-pop songs of 2018 – Dazed
Non c'è stato anno migliore per il K-pop, che per la prima volta ha oltrepassato i confini e raggiunto l'occidente, Dazed ha raccolto le canzoni che hanno contribuito al salto.
How 2018 Marked a New Era of Trolling in Hip-Hop – Pitchfork
Come e perché quest'anno una serie di rapper – tra cui Eminem, Kanye West, 6ix9ine e Nicki Minaj – hanno trasformato il trolling in uno stile di vita.

Moda, viaggi, cibo, stili di vita
Rovaniemi: the town that sold Christmas – Financial Times
Toby Skinner si reca a Rovaniemi, in Finlandia, per capire come questa piccola città sia diventata famosa, nel tempo, come "sede" del villaggio di Babbo Natale.
The 'Mary Poppins Returns' costumes are just as magical as the movie – Fashionista
La costumista premio Oscar Sandy Powell spiega a Fashionista come ha realizzato gli outfit dei protagonisti di Mary Poppins Returns, tra ricerche d'archivio e disegni in stile 2D.
13 Delightful Christmas Foods and Traditions Around the World – Atlas Obscura
13 ricette e tradizioni di Natale da tutto il mondo.
Il video della settimana
Picasso's Guernica, Explained by Jerry Saltz to Passersby in the NYC Subway – Vulture
Il famoso critico d'arte Jerry Saltz invita i passeggeri della metropolitana di New York ad analizzare insieme a lui la Guernica di Picasso.
Some contents or functionalities here are not available due to your cookie preferences!
This happens because the functionality/content marked as "Google Youtube" uses cookies that you choosed to keep disabled. In order to view this content or use this functionality, please enable cookies: click here to open your cookie preferences.
La gallery della settimana
The Best New Yorker Photography of 2018 – The New Yorker
Dai campi di rose da cui Chanel ricava il suo leggendario n° 5, fotografate da Pari Dukovic al pittore Alex Katz fotografato da  Gillian Laub.