Attualità | Rassegna
Per chi se li fosse persi
La morte di Bertolucci, 40 anni di Harvey Milk, il ritorno su Marte e i migliori libri del 2018 secondo il Nyt.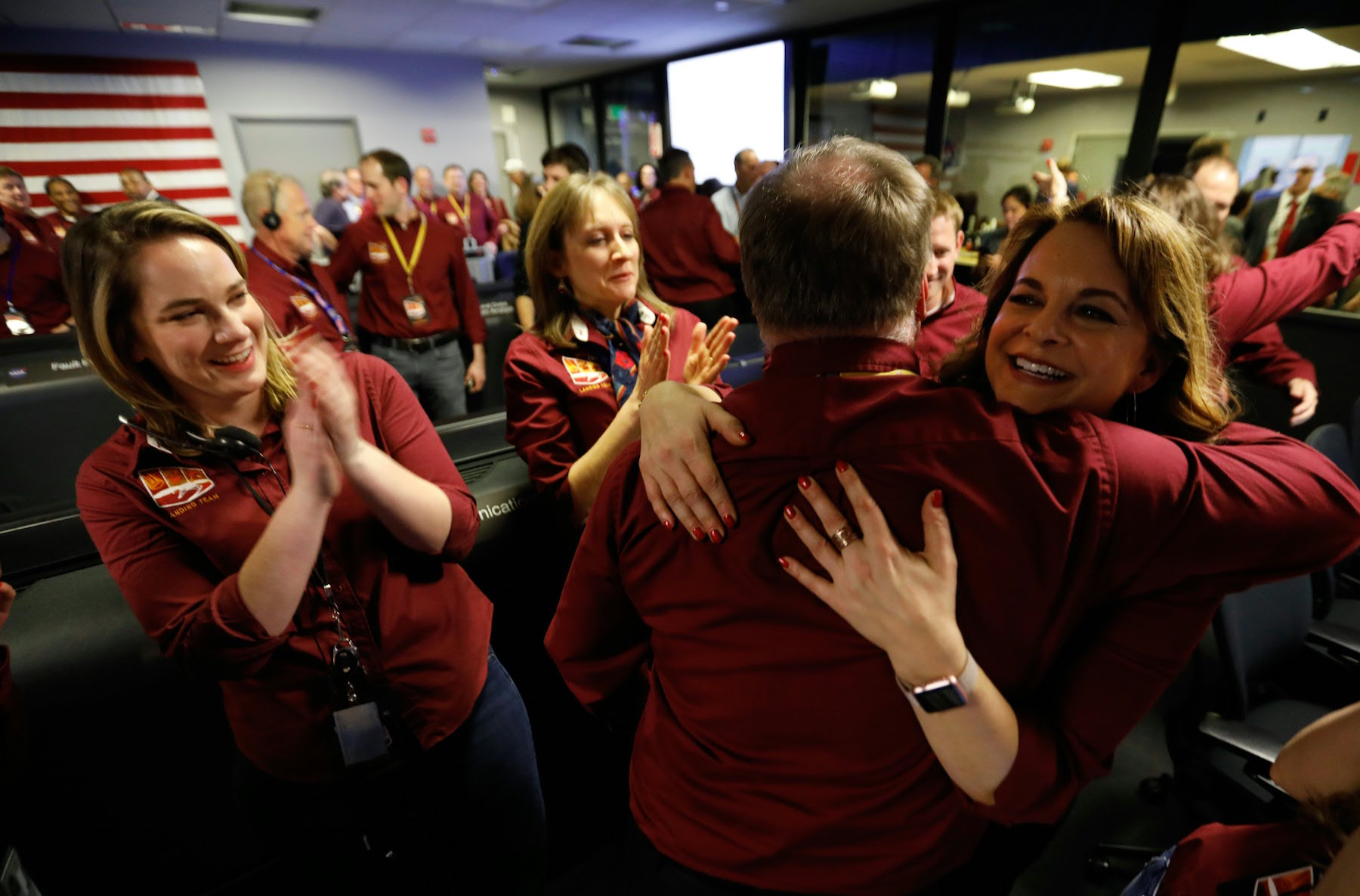 Pasadena: festeggiamenti alla Nasa per l'atterraggio di InSight su Marte (AL SEIB/AFP/Getty Images)
La scomparsa di Bernardo Bertolucci: tra i tanti articoli dedicati al grande regista italiano, abbiamo scelto il ricordo firmato Chris Harvey sull'Independent. I nuovi sviluppi del Russiagate, con protagonista l'ex avvocato del presidente Trump Michael Cohen, dominano la cronaca americana.Time incontra la giornalista britannica Clare Rewcastle Brown, autrice dell'inchiesta che ha svelato il più grande scandalo finanziario della storia recente, mentre la BBC accende i riflettori sull'americano Christopher Blair, considerato nientemeno che uno dei "padrini" della diffusione, su scala globale, delle fake news. Ancora, la corsa di Amazon alla conquista del mercato pubblicitario, le mille vite di Cher sul Washington Post, un profilo dell'attivista Harvey Milk nel quarantesimo anniversario del suo omicidio, il futuro a rischio del principale monumento indiano, come i cittadini di Parigi e Londra provano a ridare un'anima a luoghi pubblici altrimenti destinati al degrado. Una panoramica su cosa c'è di nuovo tra musei, cinema e letteratura chiude la rassegna della settimana.
Attualità, politica, esteri
The godfather of fake news – BBC
Torture nella residenza dei Clinton, "Pizzagate", arresti orchestrati dai Democratici: Christopher Blair è, per la BBC il padrino delle fake news.
Remembering LGBTQ revolutionary Harvey Milk with the people who knew him – Dazed & Confused
Quarant'anni fa veniva ucciso il politico e attivista Harvey Milk. Dazed racconta le sue battaglie attraverso gli uomini a lui più vicini.
Michael Cohen Takes Mueller Inside the Trump Organization – The Atlantic
Dopo l'ammissione delle bugie sugli incontri alla Trump Tower nel 2016, Michael Cohen continua a collaborare alle indagini sul Russiagate.
Media, giornali, tech
'It's About Right and Wrong.' In Conversation With the Journalist Who Exposed the World's Biggest Corruption Scandal – TIME
Time intervista Clare Rewcastle Brown, autrice dell'inchiesta sul più grande scandalo finanziario e politico della Malesia.
Amazon, With Little Fanfare, Emerges as an Advertising Giant – The Wall Street Journal
Il WSJ svela le strategie del colosso di Seattle per primeggiare nel mercato della raccolta pubblicitaria, on e offline.
How Microsoft became the world's most valuable company – again –The Telegraph
Da pochi giorni Microsoft è la società di maggior valore del mondo: il Telegraph spiega come ha raggiunto nuovamente il traguardo.
Scienza
NASA's InSight Mission Has Touched Down on Mars to study the Red Planet's Deep Secrets – The New York Times
Dopo sette mesi di viaggio, la sonda Insight della Nasa è arrivata a destinazione, questo articolo spiega perché è una tappa fondamentale per la conoscenza del Pianeta Rosso.
Cultura
Radical Artist Judy Chicago on Pyrotechnics and Toxic Masculinity – AnOther Magazine
Judy Chigaco, figura di spicco dell'arte Usa, parla di femminismo, mostre e misoginia con AnOther.
Remote Viewing: Resurrecting the CIA's Art of Psychic Travel – Frieze
Dan Fox prende parte alla performance ideata da Tyler Coburn e Ian Hatcher alla Triangle Arts Association di New York: il resoconto per Frieze.
The Ten Best Books of 2018 – The New York Times
Il Nyt ha pubblicato come di consueto la classifica dei migliori libri dell'anno in corso: in cima all'elenco troviamo Asimmetria di Lisa Halliday.
Tv, cinema, pop
Bernardo Bertolucci: From Last Tango in Paris to The Last Emperor, the visionary director who shocked the world – The Independent
Prima della rivoluzione, Il conformista, L'ultimo imperatore: la grandezza del cinema di Bernardo Bertolucci secondo Chris Harvey.
They always said Cher (and cockroaches) could survive the end of the world. Lately, she's not so sure about that – The Washington Post
Cantante, attrice, performer… dai duetti con l'ex marito Sonny Bono al tour di Las Vegas, un grande ritratto di Cher.
"Man Made," a Film About Transgender Bodybuilders, Upends the Traditional Documentary Gaze – The New Yorker
Il documentario sull'allenamento del transgender Dominic Chilko per la Trans FitCon Competition potrebbe rivoluzionare le caratteristiche del genere.
Moda, viaggi, cibo, stili di vita
The rise of the 'meanwhile space': how empty properties are finding second lives – The Guardian
Caserme, ospedali, stazioni: a Parigi e Londra gli spazi dismessi trovano nuove destinazioni d'uso.
What Cristopher Raeburn's Timberland Appointment Means for the Future of Fashion – Fashionista
La nomina del designer inglese a direttore creativo del brand di sportswear Usa potrebbe segnare una svolta per il fashion system.
Il video della settimana
Dancing naked with robots: dreams of Jarman prize winner Daria Martin – The Guardian
Il video con cui l'artista Daria Martin si è aggiudicata il premio Film London Jarman.
Some contents or functionalities here are not available due to your cookie preferences!
This happens because the functionality/content marked as "Vimeo framework" uses cookies that you choosed to keep disabled. In order to view this content or use this functionality, please enable cookies: click here to open your cookie preferences.
La gallery della settimana
16 Theme Restaurants That Add a Perfect Amount of Cheese to Every Meal – Atlas Obscura
Dal Frankenstein Pub all'Hobbit Cafe, i sedici ristoranti più stravaganti del pianeta nelle immagini di Atlas Obscura.