Cose che succedono | Attualità
Il titolo di Netflix più popolare in ogni Paese, in una mappa
Con più di 70 milioni di abbonati sparsi intorno al mondo, Netflix è un gigante dell'offerta di contenuti in streaming; essendo presente in diversi Stati – 91, per la precisione – però Netflix ha cataloghi diversificati, e ovviamente a seconda della latitudine le sue serie tv ottengono maggior o minor successo. Il servizio di provider HighSpeedInternet.com ha messo insieme uno studio che, usando i dati di Google Trends, unisce i titoli preferiti di ogni Paese tenendo conto delle «ricerche relative a Netflix, e incrociando i loro risultati sui motori di ricerca coi titoli degli show più cercati».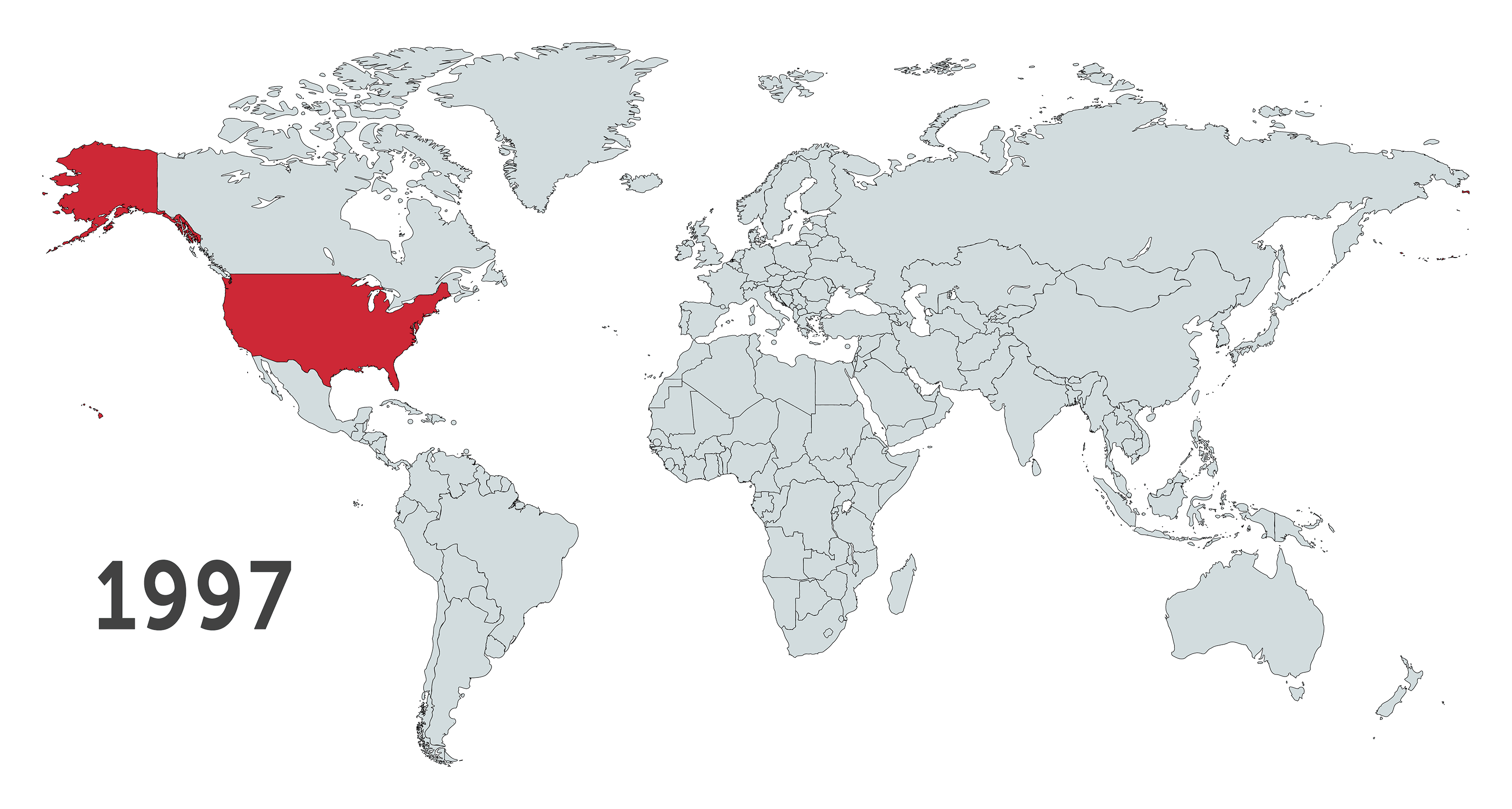 Ne è uscita la seguente lista, che specifica quale prodotto in streaming su Netflix ha avuto maggior fortuna in ogni Paese raggiunto dai servizi della società di Reed Hastings (in Italia abbiamo una passione per Gomorra, il film, mentre negli Stati Uniti trionfa Shameless; a Taiwan vince My Love from the Star):
Algeria: The Black List
Argentina: Grand Hotel
Armenia: Sherlock
Australia: Jane the Virgin
Azerbaijan: Sherlock
Bangladesh: Sherlock
Bielorussia: Bones
Belgio: New Girl
Bolivia: Futurama
Bosnia Herzegovina: Breaking Bad
Brasile: Pretty Little Liars
Bulgaria: Scrubs
Canada: Bates Motel
Cile: Breaking Bad
Colombia: Carlos
Costa Rica: The Walking Dead
Cipro: Narcos
Repubblica ceca: The Big Bang Theory
Danimarca: Rita
Repubblica dominicana: Sense8
Ecuador: The Walking Dead
Egitto: Lost
El Salvador: American Horror Story
Estonia: Sherlock
Finlandia: The Bridge
Francia: The Returned
Georgia: Breaking Bad
Germania: House of Cards
Ghana: The Originals
Grecia: Grand Hotel
Guatemala: Narcos
Hong Kong: Black Mirror
Unghieria: Family Guy
India: Friends
Indonesia: Love Rain
Iran: Love Rain
Irlanda: Black Mirror
Israele: Grey's Anatomy
Italia: Gomorra
Jamaica: The Originals
Giappone: Hibana
Giordania: Friends
Kazakhistan: Scrubs
Kenya: Sense8
Kuwait: Narcos
Kyrgystan: The Black List
Lettonia: Friends
Libano: Friends
Lituania: Shameless
Malesia: Love Rain
Messico: Las Aparicio
Moldavia: The Vampire Diaries
Marocco: Narcos
Nauru: Friends
Nepal: Friends
Olanda: Sons of Anarchy
Nuova Zelanda: Wentworth
Nigeria: Boys Over Flowers
Norvegia: The Americans
Pakistan: New Girl
Peru: The Wonder Years
Filippine: My Love from the Star
Polonia: House of Cards
Portogallo: Shadowhunters
Romania: The Vampire Diaries
Russia: Arrow
Saudi Arabia: Lost
Serbia: Gossip Girl
Singapore: Daredevil
Slovacchia: The Mentalist
Sudafrica: New Girl
Corea del sud: Soul Eater
Spagna: Narcos
Sri Lanka: Arrow
Svezia: Dexter
Svizzera: House of Cards
Taiwan: My Love from the Star
Tailandia: Soul Eater
Tunisia: Hannibal
Turchia: The Tudors
Ucraina: Friends
Emirati arabi uniti: Gotham
Regno Unito: Call the Midwife
Stati Uniti: Shameless
Uruguay: Breaking Bad
Uzbekistan: Suits
Venezuela: Pablo Escobar
Vietnam: Empresses in the Palace
Zimbabwe: Scandal
Immagini Getty Images e HighSpeedInternet.com.