Attualità | Rassegna
Per chi se li fosse persi
L'audizione al congresso del Ceo di Google, la migliore arte del 2018, un profilo di Pierpaolo Piccioli, direttore creativo di Valentino.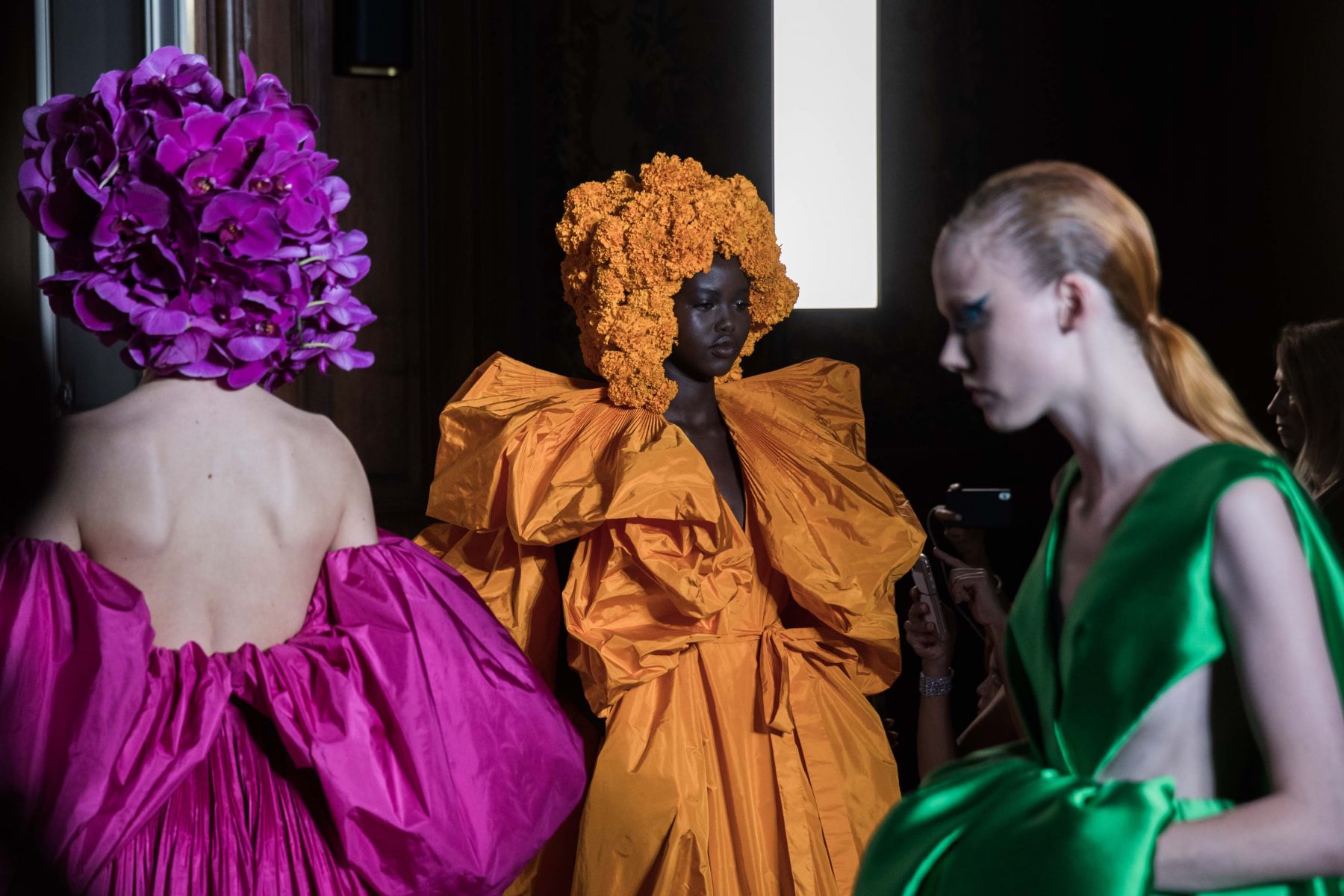 Pierpaolo Piccioli, direttore creativo di Valentino, è stato nominato miglior designer dell'anno ai British Fashion Awards (Valentino Haute Couture AW 2018/2019, 4 luglio 2018, Parigi, foto di Vittorio Zunino Celotto/Getty Images)
Uno dei personaggi finiti sotto la lente d'ingrandimento dei media questa settimana è il successore di Angela Merkel alla guida della Cdu, Annegret Kramp-Karrenbauer. Ma anche Sundar Pichai, il Ceo di Google che ha deposto al Congresso degli Stati Uniti. Con l'avvicinarsi del nuovo anno, è tempo di classifiche e bilanci: gli editor del New York Times si concentrano su ciò che è stato rilevante, dal punto di vista artistico, nel 2018. Infine, uno sguardo alle dinamiche interne alla Tesla, l'anniversario di un film cult degli anni '80 e un profilo del nostro Pierpaolo Piccioli, nominato miglior designer dell'anno ai British Fashion Awards.
Attualità, esteri, politica
Merkel's heir prepares for the fight of her life – The Times
Nonostante sia appena diventata il nuovo segretario della Cdu, Annegret Kramp-Karrenbauer dovrà affrontare questioni fondamentali per il partito.
What Google's CEO Couldn't Explain to Congress – The Atlantic
Dal rapporto con gli altri media al ranking dei risultati, il Ceo di Google durante l'audizione al Congresso avrebbe evitato alcuni argomenti cruciali.
The Unlikely New Generation of Unabomber Acolytes – Intelligencer
Tra pamphlet, webzine e forum, una nuova rete di estremisti prende a modello Ted Kaczynski, che terrorizzò gli Usa fino agli anni '90.
Media, giornali, tech
While you were offline: maybe all social media was a bad idea – Wired
Ban del "porno" su Tumblr, editoriali razzisti, attacchi contro Soros favoriti da Facebook… Siamo sicuri che i Social Network siano stati una buona idea?
How we got hooked on grisly true crime – Bbc
Docuserie come Making a Murderer  e podcast come S-Town testimoniano l'interesse del pubblico per i casi di cronaca nera.
Dr. Elon & Mr. Musk: Life inside Tesla's Production Hell – Wired
I dubbi di molti lavoratori Tesla, sospesi tra le sfuriate del boss Elon Musk e la volontà di contribuire a progetti rivoluzionari.
Cultura
Best Art of 2018 – The New York Times
Il New York Times passa in rassegna i temi che hanno segnato artisticamente il 2018, dai maestri dell'Impressionismo al biopic su van Gogh.
The 3bn art collection hidden in vaults – Bbc
Un libro fa luce sulla figura di Farah Pahlavi, moglie dell'ultimo Scià di Persia, che fino all'esilio mise insieme una collezione d'arte straordinaria.
Has Belgium's Newly Reopened Africa Museum Exorcized the Ghosts of its Colonial Past? – Frieze
Il Museo reale per l'Africa Centrale ha rivisto l'organizzazione delle esposizioni nelle diverse aree: basterà per dirimere le controversie legate al colonialismo belga?
Tv, cinema, pop
'Working Girl' Turns 30: On-Set Romances and Secrets of the Staten Island Ferry Revealed in Juicy Oral History – The Hollywood Reporter
Trent'anni fa usciva Una donna in carriera: il cast racconta curiosità, retroscena e dettagli di una pellicola diventata cult.
The Wine Thief – The New York Times
L'incredibile vicenda di Nicolas DeMeyer, l'ex assistente del Ceo di Goldman Sachs, che rubò vini pregiati milioni di dollari e tentò la fuga in Europa.
Julia Louis Dreyfus Acts Out – The New Yorker
In un lungo profilo l'attrice parla con Ariel Levy di come ha sfidato il sessismo nel suo ambiente di lavoro e dell'esperienza del cancro. Molto bello il titolo dell'edizione cartacea: "Frustration, I Love You".

Moda, viaggi, cibo, stili di vita
Why 2018 Belongs to Valentino's Pierpaolo Piccioli – AnOther Magazine
Da quando ha assunto la direzione di Valentino, Pierpaolo Piccioli ha inanellato solo successi. AnOther celebra l'annus mirabilis dello stilista.
Virgil Abloh and Grace Wales Bonner imagine their ideal cities – Document Journal
In occasione dell'ultima Art Basel Miami, Hans Ulrich Obrist ha chiesto a cinque designer d'eccezione di parlare della loro città ideale.
The House of Provocation Karl Lagerfeld continues to immortalize himself – The Cut
The Cut chiacchiera con Lagerfeld: dall'ultima sfilata Chanel al Met alla politica, Kaiser Karl dispensa pillole di saggezza.
Il video della settimana
Se avete tenuto d'occhio le classifiche dei migliori album dell'anno, vi sarete senz'altro imbattuti in Be the Cowboy, l'ultimo disco di Mitski, cantante nata nel 1990. "Washing Machine Heart" è il suo video più recente.
Some contents or functionalities here are not available due to your cookie preferences!
This happens because the functionality/content marked as "Google Youtube" uses cookies that you choosed to keep disabled. In order to view this content or use this functionality, please enable cookies: click here to open your cookie preferences.
La gallery della settimana
A Glimpse of Seoul's Pulsating Rave Scene – Vice
Le fotografie della scena rave di Seoul fanno parte della serie Strange Seoul Rave scattata dalla fotografa Yoong Jang.