Attualità | Rassegna
Per chi se li fosse persi
La testimonianza di Christine Blasey Ford, le fotografie dei love market cinesi, i suoni più belli del mondo.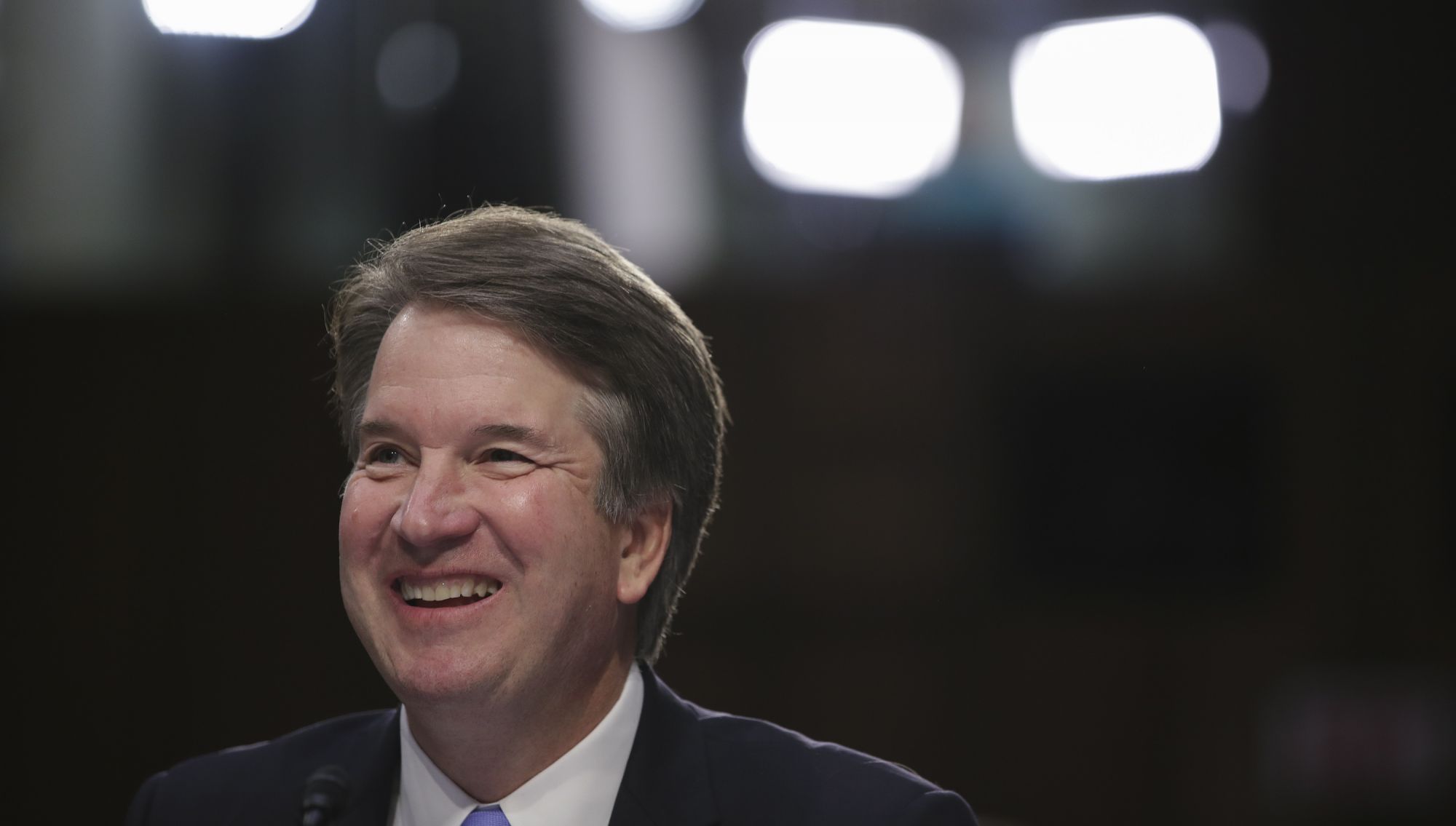 Brett Kavanaugh durante una delle udienze con cui la commissione Giustizia del Senato ha valutato la sua nomina come giudice della Corte Suprema (6 settembre 2018, Washington, DC; foto Drew Angerer/Getty Images)
Apriamo la rassegna di questa settimana con la testimonianza di Christine Blasey Ford che, giovedì, ha ribadito di fronte alla Corte Suprema le sue accuse contro il candidato giudice Brett Kavanaugh. Di Kanavaugh parliamo anche nella sezione pop, con l'analisi di Vox alla cultura dello stupro nelle commedie anni '80. Dagli Stati Uniti ci spostiamo in Israele, per capire cosa è cambiato dopo la riforma della legge nazionale voluta da Netanyahu e, subito dopo, in Macedonia, Stato che (almeno per la Grecia) non dovrebbe chiamarsi così. Continuiamo con le ultime novità riguardo Apple News che sta cercando di comprarsi i media (senza pagarli); la recensione di un libro sui dinosauri e quella all'ultimo film di Keira Knightley; l'intervista di The New Republic a Knausgård e le foto del Washington Post ai mercati dove le cinesi acquistano marito. Per concludere, vi lasciamo all'ascolto di tutti i più bei suoni del mondo, raccolti dal New York Times.

Attualità, politica, esteri
The Most Important Moments From the Kavanaugh Sexual-Assault Hearing – The Cut
The Cut ha selezionato i momenti più salienti della testimonianza di Christine Blasey Ford, la donna che ha accusato di molestie Brett Kavanaugh.
How to Adapt to the End of the World – Bloomberg
Come prepararsi alla fine del mondo (per come lo conosciamo) dovuta al cambiamento climatico: se lo chiede Businessweek.
A Turning Point in Israel – Boston Review
Cosa vuol dire vivere in uno Stato che si definisce giudaico e democratico, raccontato sul Boston Review.
Macedonians urged to back name change to stabilise region – Financial Times
Perché la Grecia vuole che la Macedonia cambi nome, spiegato bene da Valerie Hopkins sul Ft.

Longform
About time: why western philosophy can only teach us so much – The Guardian
Un longform del Guardian riassume tutto quello che abbiamo da imparare dalla filosofia occidentale.

Media, giornali, tech
Apple News Is Giving the Media Everything It Wants—Except Money – Slate Magazine
Il modo in cui Apple News sta convincendo i media a passare dalla sua parte senza offrire loro denaro.
Pokémon: The 20-year fad – Polygon
Su Polygon, la storia dei videogiochi Pokemon, il cui successo continua a crescere da oltre due decenni.
What it feels like to become a meme – BBC News
Su Bbc, la storia dei protagonisti di una foto scattata in una discoteca e diventata virale su internet.

Cultura
Dinosaurs were animals, not movie monsters – 1843
La recensione di 1843 del libro Dinosaurs, dove si prova a rispondere a tutti i quesiti sui dinosauri e sulla loro estinzione.
Does Bad Romance Lead to Great Art? – The Paris Review
Paris Review si chiede se solo chi vive un amore difficile sia in grado di fare della grande arte.
The World Beyond Knausgaard – The New Republic
Lunga intervista in cui l'autore de La mia lotta racconta a Tnr la sua opinione su Hitler, Trump e la correttezza in politica.

Tv, cinema, pop
The rape culture of the 1980s, explained by Sixteen Candles – Vox
Un'originale riflessione di Vox su come Un compleanno da ricordare spieghi la cultura dello stupro degli Usa degli anni 80.
A Unified Theory Of Keira Knightley – BuzzFeed News
Keira Knightley interpreta sempre lo stesso personaggio con un costume diverso? Se lo chiede BuzzFeed.

Moda, viaggi, cibo, stili di vita
With Cultivation, Have Oysters Become Too Perfect? – The New York Times
Erano rischiose, non per tutti. Oggi gli allevamenti di ostriche le hanno trasformate in un cibo più democratico, ma senza il fascino di una volta.
Fashion Designers Have Discovered Women Like Pockets – The Cut
Alla Milano Fashion Week di quest'anno, gli stilisti hanno scoperto che anche le donne usano le tasche.
First I Met My Children, Then My Girlfriend. They're Related. – The New York Times
Sul Nyt, la storia incredibile di un donatore di sperma che incontra i suoi figli dopo vent'anni dalla prima donazione e si fidanza con la donna che ha messo al mondo la sua ultima figlia.
Rick Owens, Fashion's Lord of Darkness, Is Still Out There – GQ
Intervista-ritratto di Rick Owens, firmato JJ Sullivan, con foto di Juergen Teller per Gq.

Il video della settimana
Listen to the World – The New York Times
Questa settimana vi proponiamo non un video, ma un pezzo tutto da ascoltare: la raccolta del Nyt sui più affascinanti rumori del mondo.

La gallery della settimana
Perspective | For some women in China, 'love markets' are the last resort to find a husband – Washington Post
I love market dove le donne cinesi vanno a comprarsi il marito, mostrati in una gallery del Washington Post.