Attualità
Le canzoni della settimana
Le canzoni della settimana secondo Studio, per commentare in musica i fatti degli ultimi 7 giorni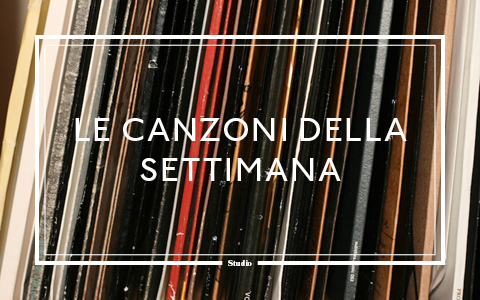 Come ogni domenica, ecco la playlist.
Morrissey – First Of The Gang To Die: Il re del pop, l'ex leader dei compianti Smiths, torna in Italia con una lunga tournée. Ha suonato a Roma ieri, ma potete ancora trovarlo – biglietti permettendo – stasera a Genova, martedì a Milano, mercoledì a Firenze e il 13 a Grado.

Simian – La Breeze: Lo chiamano Scipione, lo chiamano Minosse, ma non c'è un gran bisogno di perdersi in della futile nomenclatura. Fa caldo e si sente. Fa troppo caldo, è pure banale dirlo. I Simian si auguravano, qualche anno fa in questa canzone, l'arrivo di una piacevole brezza. Ed è quello che facciamo noi tutti.

Rino Gaetano – Spendi Spandi Effendi: Tempo di spending review, tempo di tagli, tempo di vacanze, tempi di benzina alle stelle. Tempi duri. Spese, oro nero, gasolina, metano, riscaldamento centralizzato, spider coupè gittì alfetta: tutto in questa canzone di Rino Gaetano.

Tennis – Cape Dory: Un gruppo con un nome così non poteva che essere menzionato sotto Wimbledon. Con Federer che può tornare il numero 1 al mondo e Murray che può riportare il trofeo sul suolo patrio (e ha anche ricevuto l'incoraggiamento di Boris Johnson).

Kraftwerk – Tour De France: Anche il giro ciclistico più famoso, fascinoso e importante del mondo è in corso. Sapevate che i Kraftwerk gli avevano dedicato un intero disco? Si chiama, appunto, Tour de France Soundtracks, uscito nel 2003. Ma questa canzone, poi inclusa nell'album, è del lontano 1983.

Vasco – Fegato Spappolato: Vasco ha compiuto 60 anni, e adesso si sposa. «Non c'è niente da festeggiare» ha dichiarato lui, «è una sconfitta». Niente più vita spericolata, come quella dei tempi cantati in questo pezzo, che descrive la sua "turbolenta" gioventù in quel di Zocca.

New Order – Blue Monday: Più che "Blue", domani sarà un lunedì nero per Internet. L'Fbi infatti disattiverà dei server sequestrati a un gruppo di hacker estoni, e ci dovrebbero essere disagi – ovvero perdita della connessione – per qualche centinaio di migliaio di utenti in giro per il mondo.